"Ridiculously simple," says one critic.

"The philosophy he [teacher Dan Dunne] espouses--dialectical theory--is awfully hard to grasp," complains Ruthe Stein in the San Francisco Chronicle.

" 'A new day' -- give me a break," complains another reviewer about how shallow and self-evident Dan Dunne's classroom lectures are.

"A little thick for the 8th grade--don't you think?" asks Isabel, Dan's fellow teacher in the film.

So what is it--too difficult or too easy? Funny thing is that people made the same criticisms 150 years ago when Frederick Engels was attempting to popularize dialectics. Describing skeptics who finally come to understand dialectics, Engels said, "Probably the same gentlemen who up to now have decried the transformation of quantity into quality as mysticism and incomprehensible transcendentalism will now declare that it is indeed something quite self evident, trivial and commonplace, which they have long employed so they have been taught nothing new." Engels goes on to say,. "But to have formulated for the first time in its universally valid form a general law of development of nature, society, and thought will always remain an act of historic importance."

So the point is that dialectics is both easy to understand and a profound tool to promote change.

Dan Dunne teaches each of Engel's three laws of dialectics in the class. He even numbers them on the blackboard:
1- Opposites (see photo from the film),
2 - Turning points,
3 - He doesn't name the third law of dialectics on the board, but he describes it in class, saying "change moves in spirals, not circles"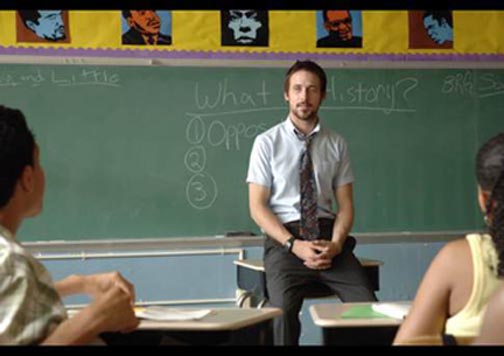 Ryan Gosling in Half Nelson

Dan illustrates the first law by explaining that history is the study of change over time. And he asks, "What is change?" Answering his own question he presses his fists against each other and says it's this-opposing forces. He uses the example that the civil rights movement had two opposing sides-"One side that believed that all men are created equal and the other side that believed they are not." (not exact quote, but something like that) He explains that these two sides pushed against each other until the side that believed all are created equal won out.

In a subsequent classroom scene Dan illustrates the second law of dialectics by having an arm wrestling contest with another student. He shows how one side can be stronger for a while (i.e. the student, "T") but there comes a turning point if the other side becomes stronger (i.e. Dan), and then Dan wins the contest.

Finally, in a third scene, Dan explains that change moves in spirals, not circles. He uses the example of the sun going down and then coming up, and he asks, "What do you have? -- A new day." He also explains that with every breath you are a little bit different. This is the third law of dialectics--negation of negation as explained by Engels.

Of course the main plot of the movie centers on Dan's relation with his student Drey after she finds out that he is a drug addict. So the teaching of dialectics, and other interesting points from U.S. history--the Attica rebellion, Berkeley's free speech movement, the murder of gay San Francisco Supervisor Harvey Milk, and the U.S. led coup in Chile--are not the main theme of the film. Still, for a popular film (Ryan Gosling was nominated for an Academy Award) to lay out the laws of dialectics is not just unusual, it is unprecedented. Check out the film on DVD (available at www.amazon.com). You can also view the film's classroom scenes about dialectics in this youtube video clip.

(oops--Sony or somebody blocked this--too bad, but you can always rent the film on Fandango or some such site.)



Return to Dialectics for Kids